Dubai Airport Transfers Service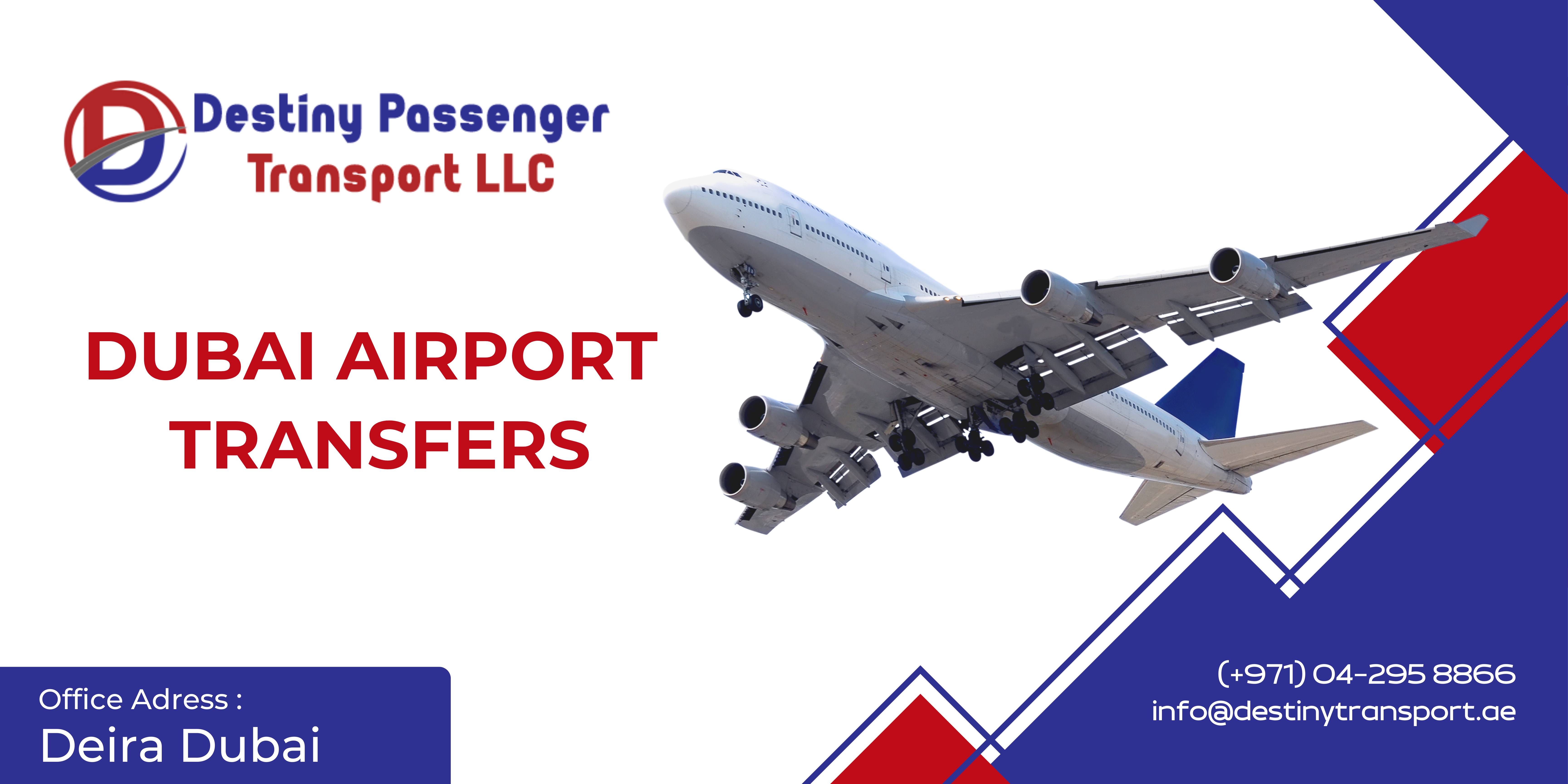 Welcome to Dubai, UAE! You are about to enter the Gulf City, Dubai, and everything is planned except the Dubai airport transfers. Don't worry,
we got you covered. Head start your next expedition with Destiny Passenger Transport's Dubai airport transfer services. Enjoy our airport
pick-and-drop service with guaranteed convenience and instant booking. Go through the seamless interface, choose the vehicle, make
your itinerary, book the ride, pay the dues, and get the confirmation. Once you are booked with us, you are all set to enjoy the ride to your hotel
or the airport with our airport transfer service in Dubai.
Get to and from the airport with Destiny Transport:
Look at this side of the story, you are stepping out of a long, aching flight and the point is you are visiting Dubai for the first time. Now you don't know
the roads, the rules here, your hotel location, and you are trapped in the most beautiful city in the world. The only option that comes to mind
could be to go for a Dubai Airport taxi but you are the one who doesn't look forward to haggling with the local taxi drivers. In this situation,
a private transfer to Dubai airport is the best solution. In the given situation, Destiny Transportation is the only company you can rely on.
We have our Dubai airport transfer service which provides Dubai to Abu Dhabi airport transfer, and Dubai airport to the city transport.
Airport Pickup Service:
Upon arrival, our professional drivers are going to meet and greet you with your personalized cards. They are going to pick you up from Dubai
International Airport or the other Al-Maktoum International Airport and take you to your next destination. Our drivers are hand-picked and
knowledgeable about the roads, rules, and regulations. You can ask them about the tourist spots or tips for your journey there. Once you book
our airport transfer service, we ensure you have quality time with us. t.
Airport Drop-off Services
At Destiny Airport transfer service, we believe in setting high standards for our customers. So every time they book a ride, they feel like a pro.
Whether you are going to step out of Dubai or you need to drop off your family, or your clients at any Dubai airport. We are ready to get you there relaxed,
calm, and relaxed in a comfortable ride. If you are a person who loves luxury, Destiny Airport Transfer Service Dubai is the right choice for you.
Fleet:
The Destiny Airport Transfers service offers multiple options of vehicles to 3.3M people in Dubai. We have a fleet of diverse nature comprised of cars,
vans, sedans, Minibusses, and buses. Our passengers can choose a vehicle of their choice. Whether you are traveling solo on a business trip,
a couple for a honeymoon, family for vacations, and a group of friends or a team for your business trip, we assure you, you will find a perfect vehicle
suitable for you all to move together. We have vehicles for airport transfer service in Dubai starting from 2-seater to 50-seater. With us, you do not
need to worry about the vehicles. You can book one, two, and as many based on your needs.
Booking Process For Airpot Transfer Dubai
The process as a whole looks like this,
Once you have arranged your requirements and selected the cars or vehicles you need. Give us a call at our number.
The booking process starts when you give us a call for our airport transfer service in Dubai.
With the itinerary and chosen vehicle, our team gives you an amount for your whole package.
You pay the dues, get a confirmation via email or phone call, and the booking is done.
About Destiny Airport Transfer Service Dubai:
After getting a booking for airport transfer service, we monitor your flight with our cloud-based navigation system and make the necessary arrangements
to welcome you in style. Our chauffeur will welcome and greet you with your personalized cards at the airport and take you to your destination
whether it's your hotel, sightseeing, or any other luxuriously. You only have to sit and enjoy the most luxurious and customized ride. This airport
transfer service in Dubai is a dream one can think of and we are making it real for you. Our chauffeur's behavior depends on your personality. If you
want some tips to know Dubai better in case of sightseeing and travel, you can ask them in your airport pickup service. But if you are a person who wants
to enjoy the city with soft music, our chauffeur will go on autopilot mode for you.
Unparalleled Airport Transfer Service:
We at Destiny Transport have been providing our airport services for over a decade now. And our experience makes us pro in this service now.
We have an experienced staff of well-trained and licensed drivers, chauffeurs, and a customer services team. The process at Destiny Travel is so smooth,
that we have thousands of satisfied customers who take airport pick-up or airport drop-off services from time to time. Our vehicles are full of today's
world amenities, technology like Bluetooth, Wi-Fi, LEDs, and all others. We offer juices and some refreshments to our passengers based on their
package details. Customer satisfaction is our utmost priority. We don't compromise on our customer satisfaction. Any complaint registered in
our portal simultaneously goes to a higher authority for scrutiny.
FAQs for Dubai Airport Transfers
How long do we need to book before the flight?
For the seamless Dubai Airport Transfer service, we would encourage our customers to book a car or bus 14 days ago.
How long does it take from the Dubai International Airport to the city?
It usually takes 10 minutes to enter Dubai city from the airport. Travel time may vary based on the weather and road conditions.
How much is the transfer from the Dubai airport to the city?
For the average, it costs 27 US Dollars for two two-person Dubai airport transfers but the prices may vary based on other conditions too. Dubai
airport transfers can be a problem for the people visiting UAE for the first time. Our airport transfer service in Dubai is the best solution for such people.
We aim to provide the most comfortable journey to you and your loved ones with maximum ease and comfort. You will get more out of our Dubai airport
transfer service. Worry less and explore more with our Dubai Airport Transfer Services. Book a vehicle now!