Transport Companies in Dubai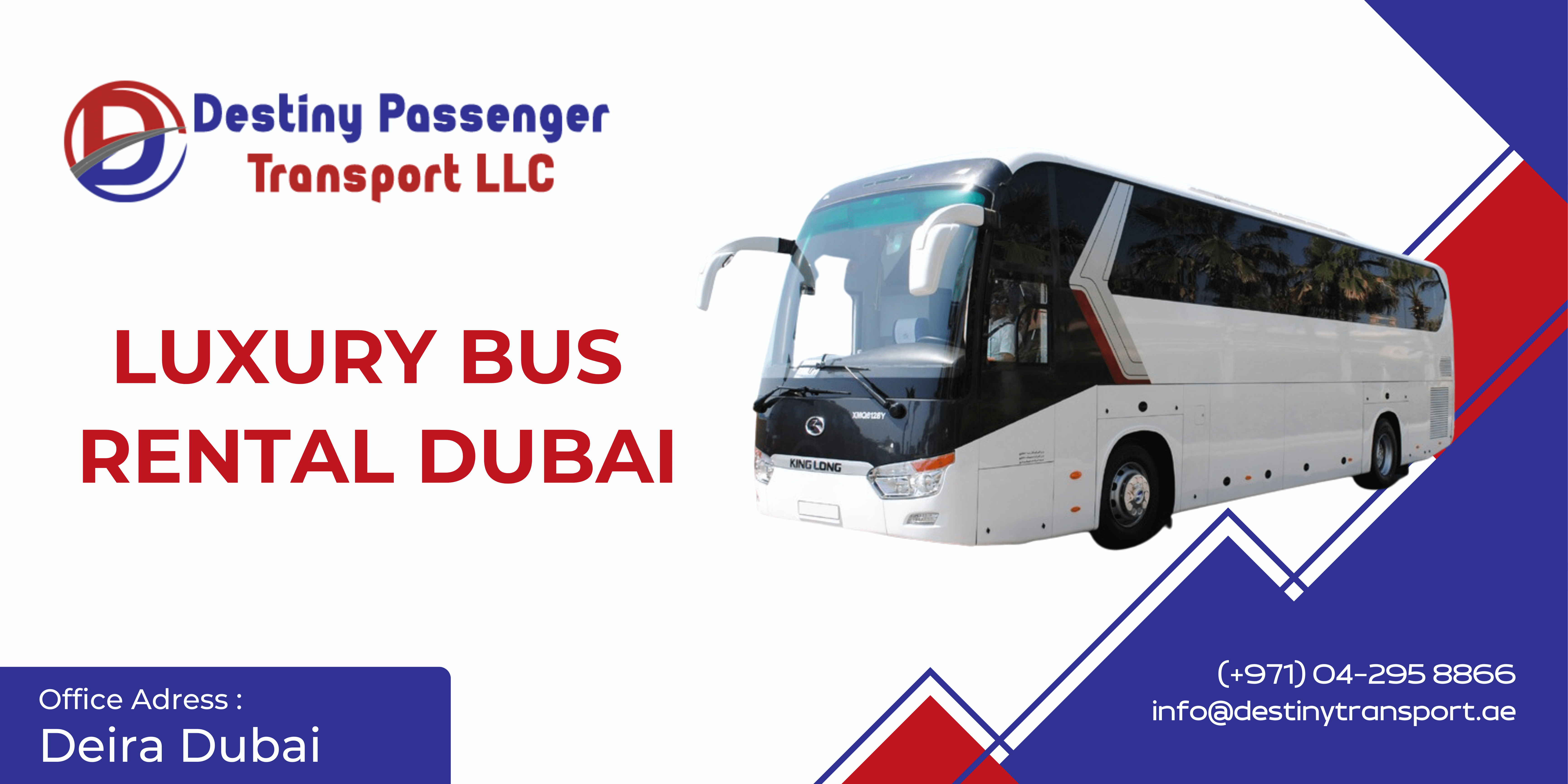 Are you tired of hiring heavy trucks and expensive transport companies? Are you seeking for a transport service in Dubai that is inexpensive
and accommodating? Look no more for these passenger transport companies in Dubai because Destiny Transport LLC is the solution to your
transportation queries! You will learn about the products and features that set Destiny Transport apart from other transport businesses.
The purpose of writing this piece is to provide our users with friendly, customized transportation facilities in the heart of Dubai.
Luxury Passenger transport companies in Dubai
The term "City of Gold" is frequently used to describe a metropolis that epitomizes Dubai's modernism, wealth, and ambition. This term incorporates
the flawless infrastructure and top-notch transport services that keep the metropolis moving at a fantastic pace, in addition to its magnificent
skyline and glittering deserts.
Dubai is a worldwide famous spot of tourism because of its innovative and effective transit system. The transport firms who put endless effort
into ensuring seamless communication within the city and beyond are at the center of this outstanding system.
Destiny Transport has flawlessly incorporated both into its offerings, resulting in an unmatched travel experience that creates a lasting impression on
visitors and locals. Let's explore the intriguing world of Destiny transport company services to see what makes them unique.
Luxury Redefined: Services of Destiny Transport Companies in Dubai:
Nothing other than the best transport services should be provided to Dubai, a city that personifies luxury and grandeur. We take this dedication seriously,
offering an exceptional automobile fleet that redefines luxury on the road..
Royal Treatment:
Our fleet of limos is the pinnacle of sophistication. Limos Fit for Royalty. You'll be welcomed inside one of these exquisite automobiles with plush furnishings,
ambient lighting, and a setting that screams class. Our limos make every journey a regal experience, whether you're going to a formal event or a candlelit dinner.
Efficiency and Fashion:
We know the importance of time, particularly in a busy metropolis like Dubai. Our chauffeur-driven cars and taxis are well known for being on time
and effective because of this. We ensure that your schedule is met with accuracy and grace, whether it's a quick airport transport
or a leisurely study of Dubai's famous attractions.
Stress-Free Arrivals and Departures to the Airport:
Our dedication to providing excellent customer service is demonstrated by our airport passenger transport services offer. Your journey will be stress-free
thanks to our polite chauffeurs, allowing you to concentrate on what matters: exploring Dubai.
Mobile App Magic:
The power of easy bookings, real-time tracking, and digital payment choices are all at your fingertips, thanks to our user-friendly mobile app. With our app,
you're not just reserving a ride but starting a journey specifically designed for your requirements.
Safety First:
We place utmost importance on ensuring all our customers' security. Our drivers uphold The strictest safety standards thanks to ongoing inspections
and rigorous training. Knowing Destiny's primary focus is your well-being, you may travel confidently.
Customized Services:
Our custom tours make your aspirations of visiting Dubai a reality, whether you wish to explore Old Dubai's rich history or bask in the glitz of
the Burj Khalifa. With our guide, you can explore according to your inclinations, finding obscure treasures and well-known locations. And if your
query is transport companies near me? You landed at the right place because our services are available everywhere in the city. As one of
the bus transport companies in Dubai, we offer various tailored solutions.
Environmental Responsibilities: Transport Companies in Dubai for a Greener Future:
Destiny Transport is actively participating in Dubai's quest for a sustainable future. We are committed to lowering the carbon footprint and have added hybrid
and electric cars to our fleet. Your vacation experience with us is plentiful and eco-conscious, ensuring that Dubai's natural beauty is preserved for decades.
What Makes Destiny Transport Company in Dubai Leading in the Market?
Choosing the best service provider for transport in the thriving and dynamic city of Dubai can make a world of difference to your travel experience.
Knowing that our customers have many choices, we at Destiny Travel take great delight in showcasing the qualities that make us the top option
for travel in Dubai. As listed above, our services make us the best and most affordable among the competitors in the world. We stand out as
the obvious option for individuals looking for the best travel encounters. We embody Dubai's ambition and extravagance, from opulent vehicles to
cutting-edge technology, safety, and a dedication to sustainability.
Future Vision of Destiny Transport Company in Dubai:
Destiny Transport offers a glimpse into the potential future of travel in addition to providing transportation. We are leading this movement in a city
recognized for challenging boundaries and embracing innovation. We turn your journey into an encounter where comfort meets luxury and aspirations
come true. Whether you live there or visit, we warmly encourage you to embrace Dubai's travel future. It serves as a gateway to a world of luxury,
convenience, and unmatched service rather than just serving as a means of transportation. Destiny Transport ensures that your journey is as
extraordinary as the destination in Dubai, where dreams are realized every day. Decide on Destiny Transport to enjoy all that Dubai has to offer.
Your future is waiting!
Conclusion
Summing up our services related to transport companies in Dubai, you are now well aware of what factors to consider before choosing your
transport ride in UAE. Dubai's appeal stems from its stunning skyscrapers, opulent lifestyle, and grace and accuracy with which it moves. Dubai's transport
businesses put a lot of effort behind the scenes to keep the city moving. To get you there, Destiny Transport will be your chariot. It's a destiny waiting
to be discovered, not just a voyage. Let Destiny Transport reinvent your travel experience as you advance into the future.
FAQs
Which form of travel costs the least in Dubai?
The safest, most practical, and least expensive methods of getting around the city and seeing the sights include the Metro, buses, and taxis.
If you want to travel the city elegantly, you can hire a Bus Rental in Dubai From Us!
How much does renting a bus in Dubai for a day cost?
Minibus prices range from AED 400 to AED 900, while a luxury coach or van for 10 hours' costs AED 550 to AED 1500. The bus transportation companies
in Dubai can be contacted to discuss the precise pricing and payment alternatives.
Is a full license required to rent a car in Dubai?
A valid driving license (in addition, those not nationals of the countries listed below will need an international driving permit), an original photo ID*,
and a credit card are needed to rent a vehicle in Dubai.